Posted by Graphicdome on 5th Feb 2021
Most of us have already heard about the sci-fi sub-genre Cyberpunk by now since the word itself was brought to the mainstream attention with the release of the Cyberpunk 2077 video game in December 2020 and it made its presence felt in graphic, industrial and fashion design. The dystopian society often presented in cyberpunk literature or film is not necessarily an integral part of this on the rise trend where the bold neon color schemes and high-tech layouts were taken out of context and combined with other contemporary design trends to create unique and memorable works.
Cyberpunk designs feature a lot of neon vibrant colors where red and blue are usually used a lot. The feel of this trend is dark and underground and the shapes used for designs are mostly geometrical.
Inspiration:
Cyberpunk movies worth to watch and get inspired:
Below we selected a few posters of movies that have a cyberpunk theme or vibe and the graphics, as you can see, are simply amazing. Some other great films to watch are Elysium, Upgrade, Matrix and Nemesis.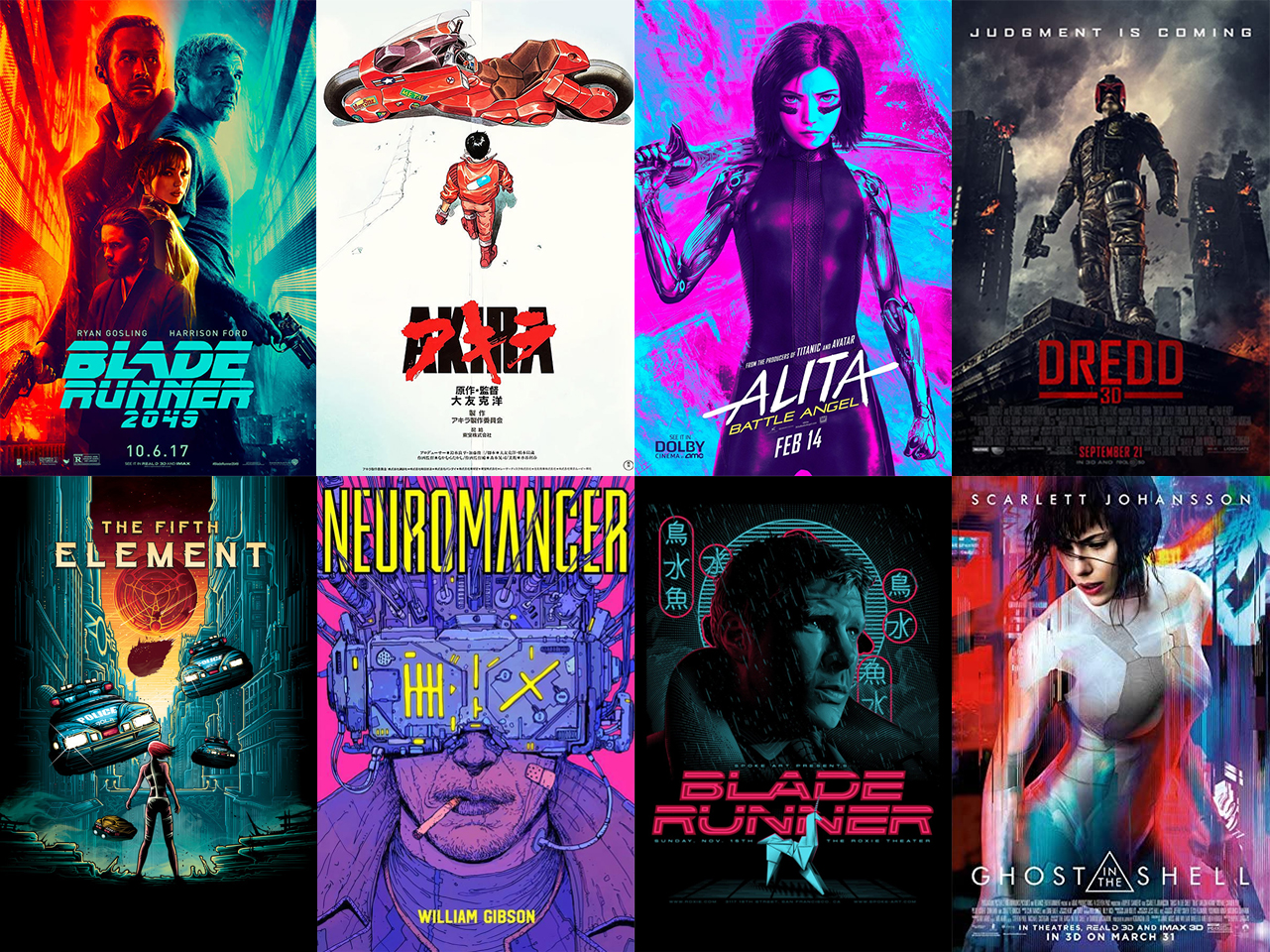 Cyberpunk illustrations & Color palettes:
Pink along with Purple and Neon Blue are very popular colors for this design trend. The vivid neon colors are usually combined and used on dark backgrounds and the result is a futurist glowing feel. Cyberpunk had become a very popular subgenera of fantasy and sci-fi and Illustrators around the world embraced this style to create surreal and futuristic images that depict a futuristic dystopian and gloomy urban landscape. Geometry, gradients and glitch effects are often used for cyberpunk graphic design.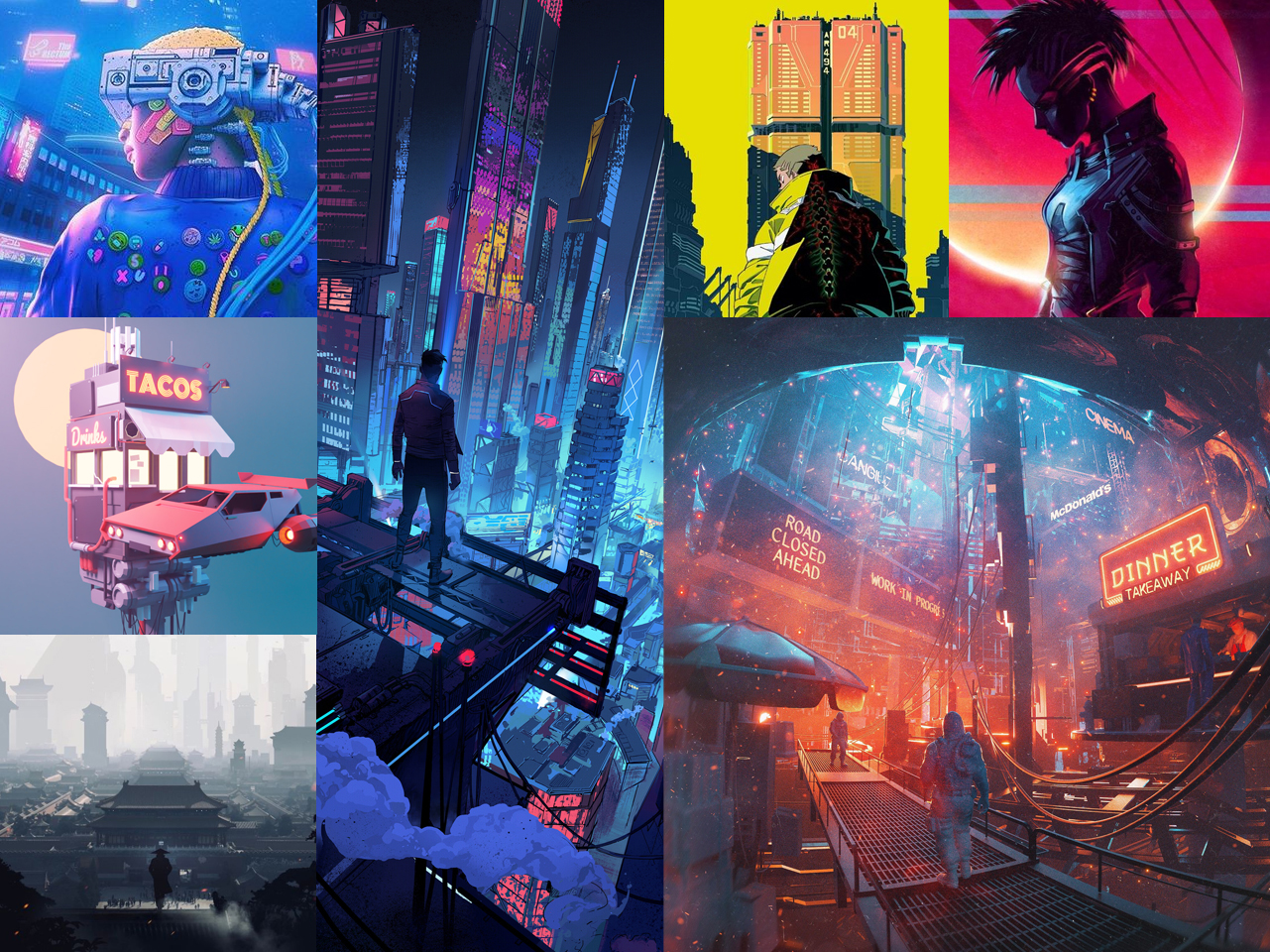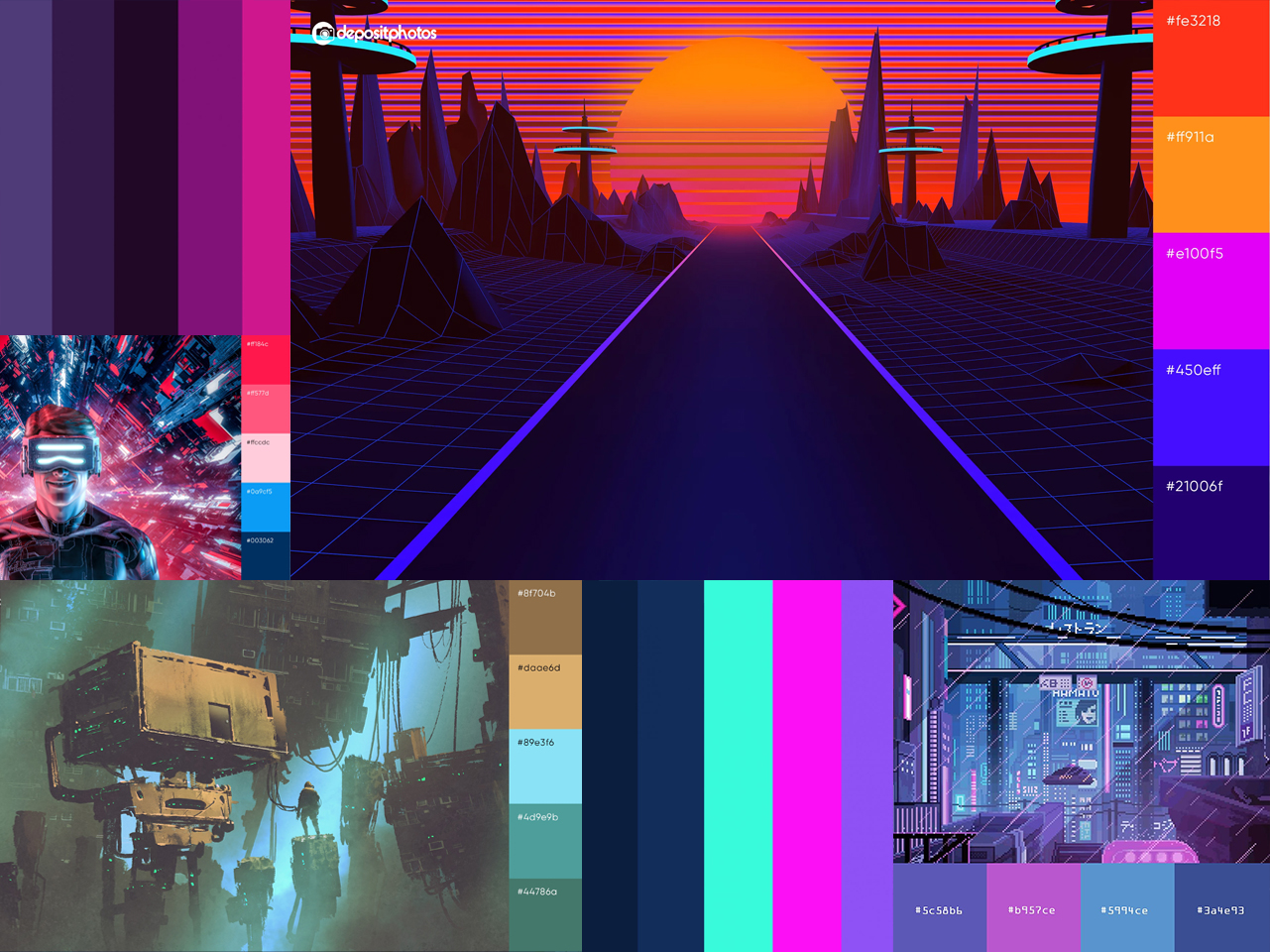 Cyberpunk in fashion design:
Patchwork designs, bold geometrics and shapes, edgy and recycled look are very accurate in describing Cyberpunk fashion design. The year 2020 saw an increase of cyberpunk elements introduced in the fashion industry. The style of the outfits is very distinct and futuristic and it tends to focus on combinations of high-tech with low-life.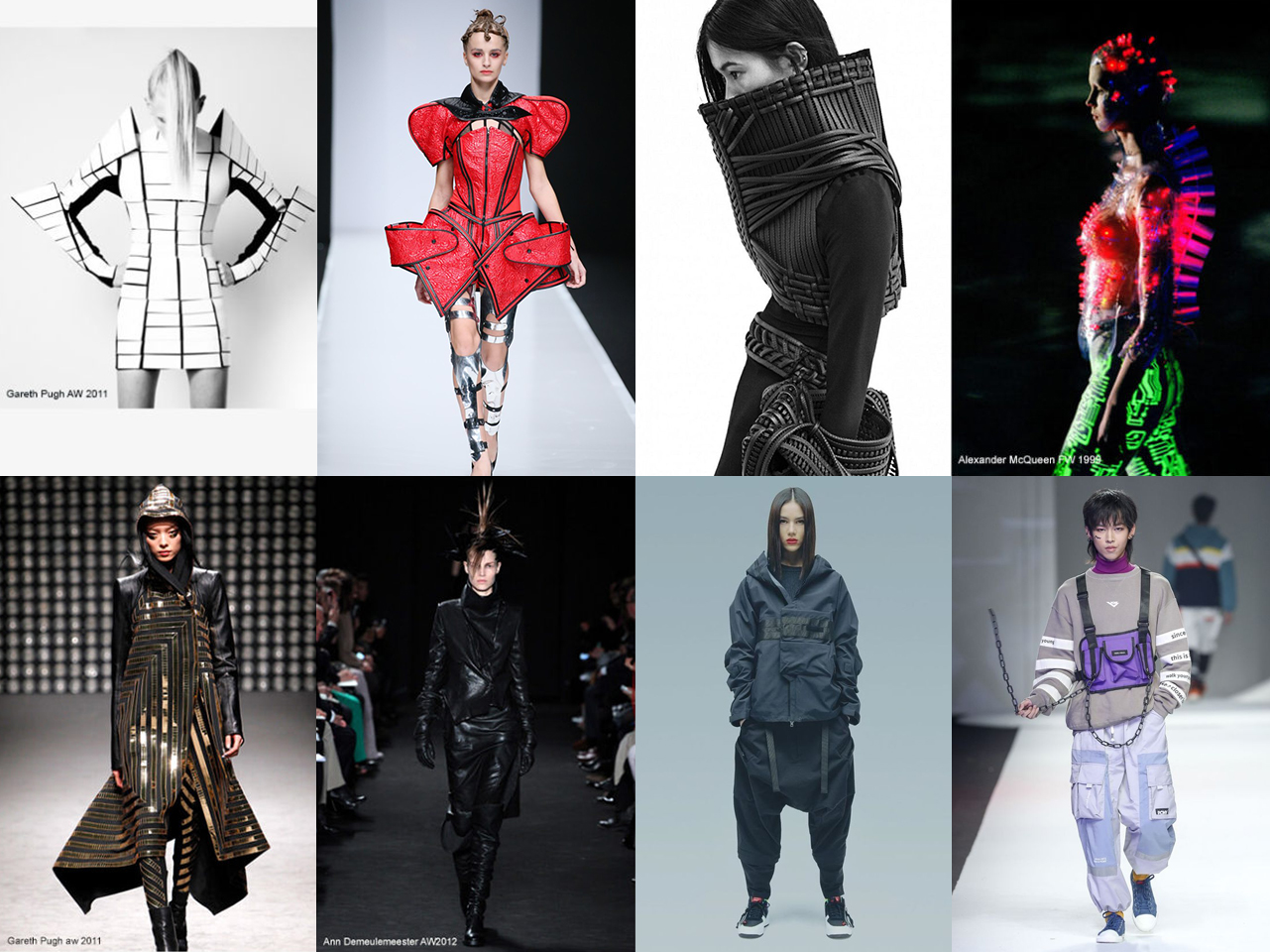 Cyberpunk logo designs and re-designs of famous brands logos: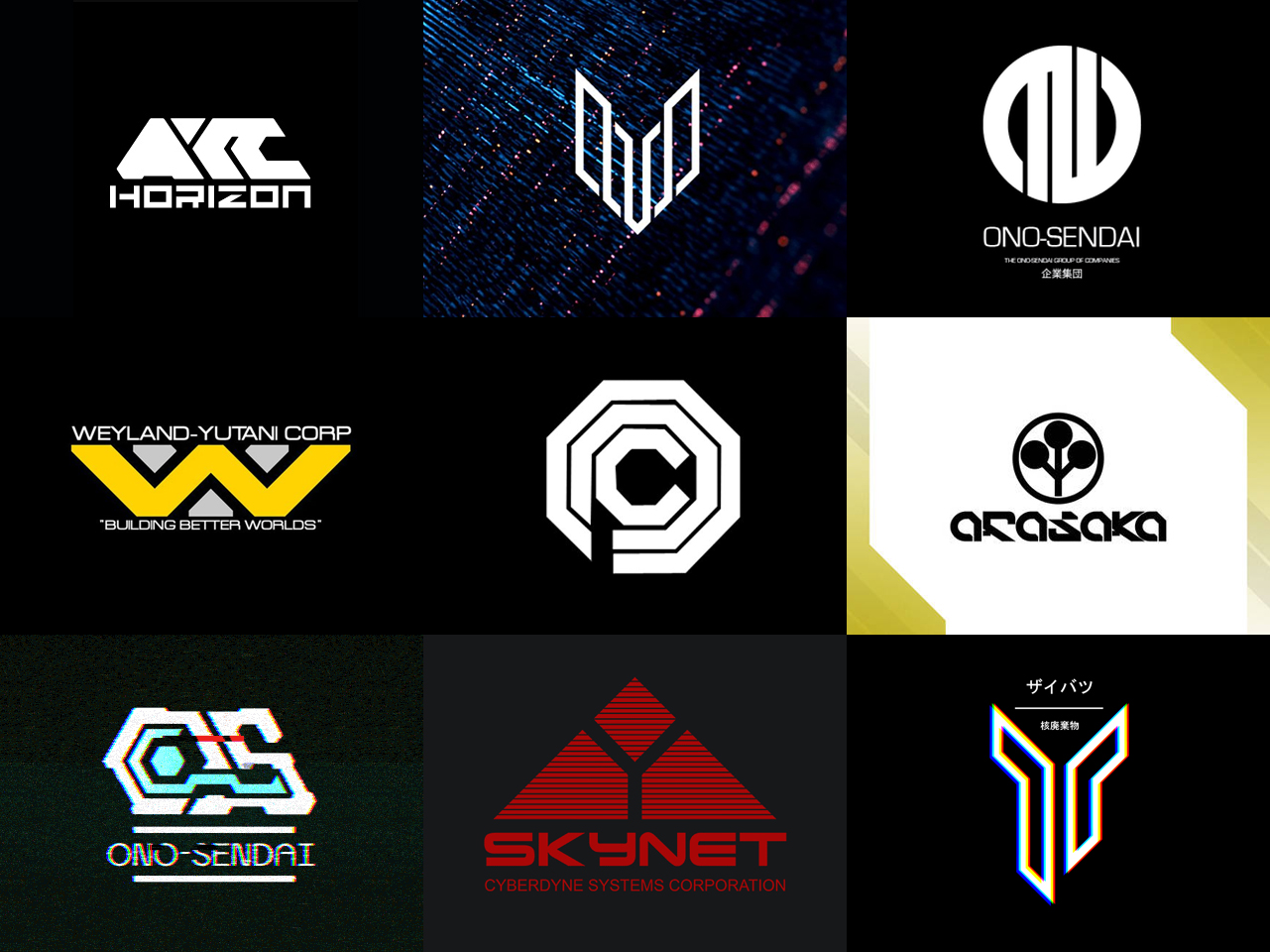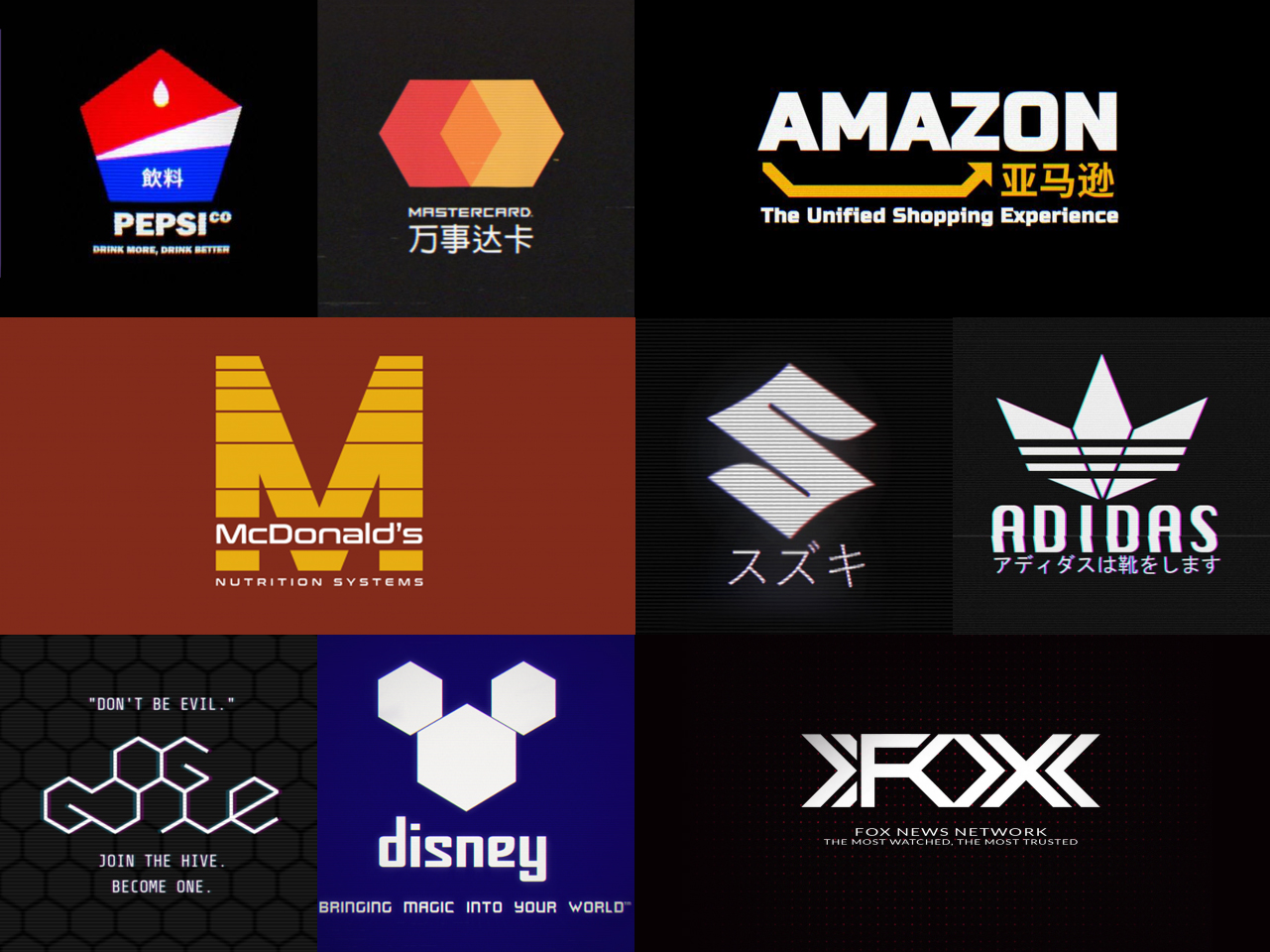 Great digital assets to use in your projects:
In graphic design, the rise of cyberpunk was also on the rise on stock graphics websites where many templates were uploaded and the tools necessary to create beautiful cyberpunk-like design quickly became available for anyone to use. A great and ever-growing free fonts selection is also available and we made a list of 10 cyberpunk and futuristic fonts which are available to download for free.
Free Cyberpunk Fonts:

Project Hydra Download Here

Dualistic Download Here
Anurati Download Here
Ailerons Download Here

Exan Download Here

Halogen Download Here

Aquire Download Here
Planet Kosmos Download Here

Mechsuit Download Here

Devil Breeze Download Here
Check out our own 80s and cyberpunk inspired text effects:
Also see these other awesome freebies: